Published: 11 April 2018

11 April 2018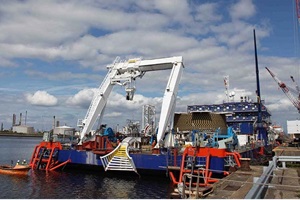 CWind, part of the Global Marine Group (GMG), has announced the launch of complete cable care, a package of services for power cable owners. GMG concurrently announced the addition of the ASV Pioneer to its fleet of cable ships.
The capabilities of the ASV Pioneer, a multi-purpose barge that is equipped to provide cable repair solutions for clients off the UK coast, will enable complete cable care to provide a new end-to-end turnkey solution for cable repair needs. The ASV Pioneer can operate from the beach out to a depth of 50 metres. The vessel also benefits from a full spread of cable repair equipment, including a carousel for cable storage and ample deck space. The ASV Pioneer will remain on permanent standby at CWind's offshore service hub in Blyth, UK.