Published: 16 December 2022

16 December 2022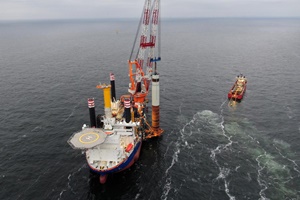 Van Oord and DOT have developed a one-day course specifically for engineers who wish to understand how to design a Slip Joint connection for an offshore wind turbine. The first course will take place on 15 February 2023 at De Oude Bibliotheek (DOB) in Delft, the Netherlands.
This dedicated course dives deeper into the most important aspects that come into play when designing a Slip Joint for offshore applications. The course consists of both theory and practice and will be hosted by DOB Academy.
The Slip Joint is an alternative connection between foundation elements, a monopile and a transition piece. It consists of two conical sections placed on top of each other. The Slip Joint is based on friction, with the weight ensuring firmness and stability. Installation takes place by sliding the wind turbine's foundation elements over the monopile, without having to use grout or bolts.

Unlike standard solutions, the Slip Joint makes a submerged connection possible, allowing for a more balanced weight distribution between monopile and transition piece. It therefore opens up the possibility of manufacturing larger foundations for the next generation of wind turbines with existing production facilities and installing them at deep-sea locations using existing vessels. The conical sections that make the connection are produced using standard manufacturing methods.
Van Oord successfully installed the first Slip Joint foundation in a commercial offshore wind farm in 2020. Borssele Wind Farm Site V is a sustainable energy zone some 20 kilometres off the Dutch coast and has been designated as an innovation site. The Two Towers consortium, consisting of Van Oord, Investri Offshore and Green Giraffe, was awarded the project, providing a unique opportunity to test and demonstrate advanced technologies.