Published: 14 January 2022

14 January 2022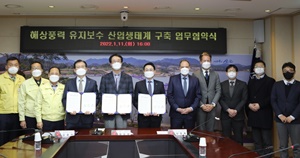 TÜV SÜD Korea and Shinan-gun, a county on the southwest coast of South Korea have signed a Memorandum of Understanding (MoU) with KEPCO KPS (Korea Electric Power Corporation's Plant Service & Engineering).
The parties will together establish an industrial Operation & Maintenance ecosystem for the 8.2GW Shinan offshore wind farm. TÜV SÜD Korea will establish a training centre and develop a specialised training system at Shinan-gun. Korea Electric Power Corp, SK E&S, Hanwha Engineering & Construction Corp and Doosan Heavy Industries & Construction Co, are involved in the realisation of the Shinan wind farm. KRW 48 trillion (USD 43 billion) will be invested by 2030 and more than 1,600 O&M experts will be required for its construction.