Published: 02 December 2016

02 December 2016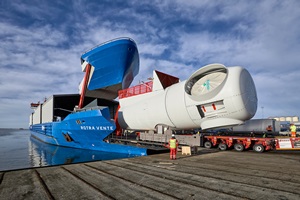 Siemens and logistics partner deugro have commissioned its first specialised transport vessel, the Rotra Vente, together with customers and representatives of the European offshore wind industry, in the Danish harbor of Esbjerg. The 141-meter long vessel can carry multiple 8MW nacelles per trip and will connect Siemens' coming manufacturing site in Cuxhaven, Germany with installation harbors in the North and Baltic Seas.
Designed from a base of an existing hull of a container ship the vessel was rebuilt for its new purpose at Holland Shipyard in Hardinxveld-Giessendam in the Netherlands. Part of its new equipment is a large bow door that allows Roll on-Roll off-loading (Ro-Ro) access to the restructured cargo deck. The deck is covered by a telescopic roof to protect the nacelles from salty seawater spray during transportation. Since the roof can be opened, Rotra Vente's cargo can also be loaded via cranes at harbors without a Ro-Ro ramp. She can also handle transports of up to nine wind tower sections per trip or three to four rotor blade sets. A sister ship is expected to be delivered in spring 2017.