Published: 01 December 2016

01 December 2016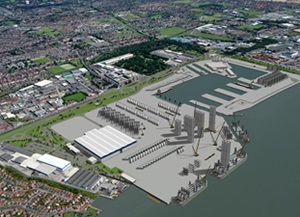 Siemens has officially inaugurated the new rotor blade factory for offshore wind turbines in Hull, UK. Now, the factory has completed the first 75-meter-long blades which are currently stored on racks on site. Shipping to the first offshore wind project Race Bank is expected in early 2017. With its partner Associated British Ports (ABP), Siemens is investing GBP 310 million in Hull to create a center for offshore wind manufacturing, assembly and logistics.
The centerpiece of the investment, the wind turbine blade factory, is now fully operational. The full Alexandra Dock site, including a new harbor for pre-assembly and load-out of wind turbine components, will be fully on stream in 2017. Siemens had employed almost 700 people in Hull so far. A further 100 permanent staff are employed at Alexandra Dock working for Siemens' suppliers and additional recruitment up to a total of 1,000 people will continue into 2017 as the site becomes fully operational. The new production site has an area of 540,000 square meters, including an area reclaimed from a wet dock. The new factory itself covers 40,000 square meters and has an optimized material flow based on the Siemens Production System (SPS). Storage, supply chain and assembly work are interconnected with modern database systems to produce 75–meter-long rotor blades for offshore wind turbines of the seven and eight-megawatt class.