Published: 15 May 2023

15 May 2023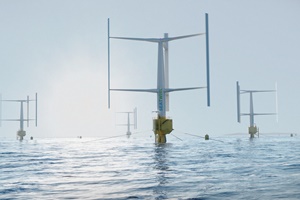 SeaTwirl has announced that they and Kontiki Winds have signed a MoU (Memorandum of Understanding) to electrify offshore oil and gas assets and other offshore applications with the use of SeaTwirl's floating wind turbines.
The companies will explore new opportunities in the market to implement offshore wind into new and existing oil and gas assets and microgrid applications such as the powering of fish farms, desalination plants, and/or other small-scale applications that are currently based on fossil fuel electricity generation.
Kontiki Winds, a Havfram company, is an early-stage offshore wind technology developer and electrification enabler, focused on decarbonizing the global energy mix. SeaTwirl is a Swedish energy-tech company, and its floating vertical-axis wind turbine has a low centre of gravity, which means it uses less steel for the floater than conventional floating solutions.