Published: 19 January 2018

19 January 2018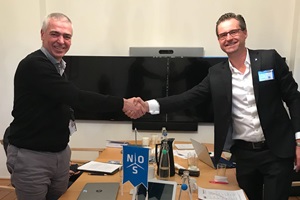 Northern Offshore Services (N-O-S) and Fred. Olsen Windcarrier have signed a co-operation agreement. The agreement means that Fred. Olsen Windcarrier's fleet of crew transfer vessels (CTV) will be integrated into N-O-S's existing management and organisation.
The cooperation will further develop the service offered to the clients and will allow Fred. Olsen Windcarrier to focus their resources and investment into installation of offshore wind turbines and O&M. With the seven additional vessels from Fred. Olsen Windcarrier, N-O-S CTV fleet will consist of 37 vessels. The cooperation agreement is effective with immediate effect for the commercial management and effective for operational management from 1st March 2018.