Published: 16 February 2017

16 February 2017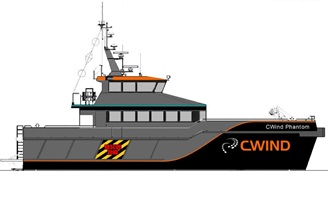 CWind has invested in the company's largest crew transfer vessel to date. Newly named as CWind Phantom, the 27.4 metre catamaran can hold 20,000 litres of fuel and has a 20 ton cargo capacity, making her suitable for longer stretches of work at wind farms located further from shore.
Built in 2015, the CWind Phantom can carry up to 12 passengers, with berths for eight people. The accommodation is fully air-conditioned and heated and offers all the amenities required to remain at sea for extended periods, including a dedicated meeting space. Featuring an aluminium hull with 8 metre beam width and 1.4 metre draft, CWind Phantom can carry containers in a combination of configurations, while an on board crane can lift 1.1 tons at 5 metre outreach. The jet-driven vessel is powered by two MAN D2862 main engines and is capable of reaching a maximum speed of 27 knots. CWind took ownership of the vessel on 1st February. Following a mini-refit, the CWind Phantom will be available to start work on 1st March.