Published: 24 June 2022

24 June 2022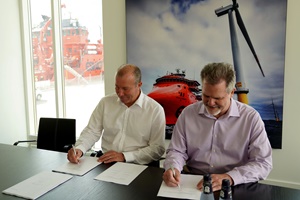 Crowley and ESVAGT have executed additional joint venture agreements that further strengthen their commitment to support purpose-built, Jones Act vessel development and availability for US offshore wind production.
The new agreements, which follow the original agreement between the companies in
2021
, will support their joint efforts for service operation vessels (SOVs). The latest additions focus on the financial and development efficiencies in the vessel development process between the companies. Crowley will own and operate the vessels crewed with U.S. mariners, while Crowley and ESVAGT will share in the financials of the venture.