Published: 24 August 2021

24 August 2021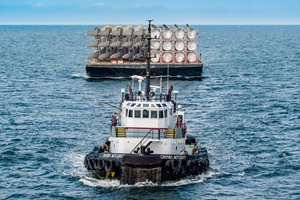 SEA.O.G Offshore, an integrated services provider to the offshore energy industry, has announced a merger with Crosby Tugs. The partnership will focus on delivering installation support and operations and maintenance services for the US offshore wind industry.
Crosby Tugs is a marine transportation providers. The Louisiana-based company delivers wide-ranging offshore and inland marine towing, dredging, and rock placement services along the Gulf Coast region and beyond. The new combined fleet has 130 inland and offshore towboats and a fleet of over 400 barges. Together, Crosby and SEA.O.G Offshore will bring the ADAPT feeder barge concept to market. ADAPT is a stable, semi-autonomous delivery and installation platform for Wind Turbine Components, Foundations, Scour Protection, and Cable lay.