Published: 20 May 2021

20 May 2021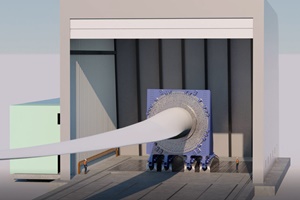 The Fraunhofer IWES has started construction work on a third rotor blade test bench at its Großer Westring site in Bremerhaven, Germany. Once complete, the bench will be used to test prototypes measuring 115 metres in length.
€19 million will be invested in the project "Future Concept for Fatigue Strength of Rotor Blades Phase II". The construction consist of a testing infrastructure with a modular test block and involves the development of new methods for investigating subsegments. A 600-ton steel test block which secures the rotor blade can be tilted and the blade can be rotated 180 degrees on the block via a corresponding device. The test block and measurement technology will be ready in 2022. The project is financed by the German Federal Ministry for Economic Affairs (€14.8 million) and Energy (BMWi), the State of Bremen and the Federal Ministry of Education and Research (BMBF) (€4 million).