Published: 29 October 2019

29 October 2019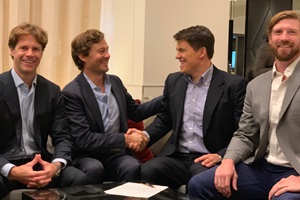 Bernhard Schulte Offshore (BSO) and MidOcean Wind (MOW) have entered into a joint venture to build and operate support vessels for the US offshore wind industry.
MidOcean Wind (MOW) is a subsidiary of MidOcean Marine, a privately-owned company specialising in niche US Flag maritime projects. MidOcean has owned 20+ ships and has 35+ years experience operating U.S. vessels and is a U.S. Jones Act compliant ship owner.
The joint venture signals a new chapter of cooperation between BSO and MOW, which began in late 2018 when the two parties partnered in WINDEA Offshore US to provide a single point of contact for offshore wind customers in the US. WINDEA Offshore USA mirrors the efforts of the German entity WINDEA Offshore which is a joint venture of three family-owned companies, Bernhard Schulte Offshore, Buss Offshore Solutions, and EMS Maritime Offshore.