Published: 15 November 2019

15 November 2019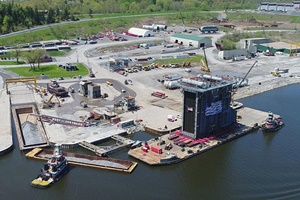 Mammoet has announced its agreement with Port of Coeymans Marine Terminal, owned and operated by Carver Companies, in Coeymans, New York. The collaboration allows Mammoet access to the port's 400-acre marine terminal facility located along the Hudson River 100 miles North of New York City and 10 miles South of Albany, NY, USA.
With the agreement, Mammoet can offer storage options, load in and load out options, local barge supply, assistance with offshore wind endeavors and local projects in the East USA area. Mammoet's CC 2800, a 660 ton capacity crawler crane, is stationed on-site to provide heavy lift services inside the port facility, and auxiliary equipment for staging and storage is also available onsite.