Published: 03 July 2023

03 July 2023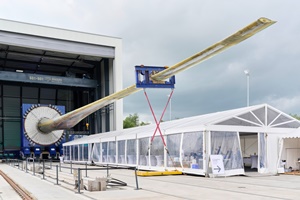 Fraunhofer Institute for Wind Energy Systems IWES has inaugurated its new 115-meter-plus rotor blade test rig. The new rotor blade test rig offers testing possibilities for rotor blades measuring longer than 115 metres.
In addition to biaxial, full-scale blade tests, manufacturers also have the option of testing individual segments of a rotor blade. The construction of the test rig was financed by the German Federal Ministry for Economic Affairs and Climate Action (BMWK) to the tune of around €18 million, with additional funding of around €5 million coming from the German Federal Ministry of Education and Research (BMBF), the State of Bremen, and the European Regional Development Fund (ERDF).