Published: 13 November 2023

13 November 2023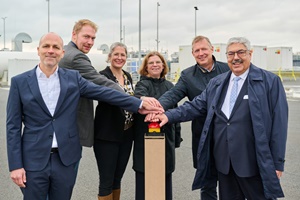 Senator Kristina Vogt and Lord Mayor of Bremerhaven Melf Grantz have launched the trial operation at the Hydrogen Lab Bremerhaven (HLB) together with the Fraunhofer Institute for Wind Energy Systems IWES. The infrastructure is now ready for the research work in Bremerhaven focusing on the interaction between wind turbines and electrolytic hydrogen production.
The main components have now been connected, containers with transformers and the control room have been set up. Electrolyzers, fuel cells, a CHP plant, storage units, and compressors have been installed. Connection to the medium-voltage grid of the Dynamic Nacelle Testing Laboratory (DyNaLab) in the immediate vicinity means that compatibility with the power grid can also be tested directly. Regular operations at Fraunhofer IWES will begin next spring with the official commissioning of the HLB. The HLB received a total of €16 million in funding from the European Regional Development Fund (ERDF) and the State of Bremen.