Windtech Future
Published: 01 March 2016

01 March 2016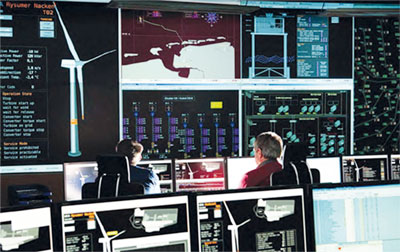 There is an emerging need to operate wind parks similar to conventional power plants, so technologies which enable this capability as part of a power plant control (PPC) system will be favoured in the coming years. Certainly, the Internet of Things (IoT) will play an important role as an underlying platform on which the performance and price optimisation of the wind park will be evaluated and achieved.
By Philip Totaro, Founder & CEO, IntelStor
Overall the design intent of the future PPC system is to increase annual energy production (AEP) and regulate wind turbine/wind park power output based upon demand and electricity price optimisation. The architecture of the PPC system of the future will deliver maximum output of price-optimised electricity while maintaining overall health of each turbine in the wind park. Predictions for the PPC system of the future include:
Predictions for the PPC system of the future include:
Forward-looking turbine and/or wind park operational envelope definition based on component life consumption models. This multi-variable analysis approach enables robust operational control by IoT when one turbine can overproduce to make up for another turbine underproducing so that output power is stabilised.
Model-predictive controls to enable maintenance scheduling and price-optimised downtime assessments.
Derate or uprate control for availability maximisation versus power output optimisation is likely to become an emerging aspect of this technology. Component stress reduction with AEP loss minimised as well as derating for component life preservation and scheduled maintenance targeting will be key.
Electricity price optimisation will also involve uprate (or the avoidance of derating) in anticipation of peak power pricing and derating/curtailing during off-peak power pricing to preserve turbine component health.
Energy storage integration for price optimisation will also be possible. Turbine derating for component life preservation combined with release of stored energy would allow power output to stay above a threshold level while turbine health is maintained.
Several key technologies which are already deployed in the wind industry will require system engineering and integration in order to enable these capabilities in the future PPC system:
Component damage accumulation monitoring including 'real-time' stress accumulation monitoring of critical drive-train, blade and electrical systems components. Using the IoT platform, turbine data from multiple units will be communicated and analysed to optimise individual turbine performance in parallel to the aggregate wind park performance.
Component damage accumulation data will need to be fed into models of the turbine control and wind farm control system to predict component life consumption, life consumption rate and remaining useful life.
Controls which optimise turbine and wind park performance based upon these predictive models will enable component-life-optimised and price-optimised control of individual turbines and the wind park.
The challenge for successful utilisation of IoT as an enabler to PPC systems necessitates accurate data acquisition, analysis and implementation of control solutions based upon data gathered from IoT platforms. Ultimately this future PPC system will require a system engineered approach, so designers will need to think more holistically than in the past.