Windtech Future
Published: 04 April 2016

04 April 2016
Components which follow a 'design for service' philosophy combined with an increasing reliance upon data analysis will be the driving force behind O&M cost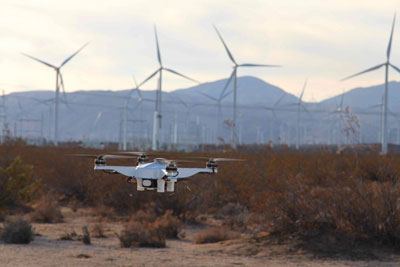 reductions in the coming years. Sub-components which are integrated into the drivetrain, generator, electrical system or blade offer the ability for weight reduction as well as an improvementon reliability, but typically this level of integration makes service more difficult. Striking the right balance is key and modularisation of sub-components has already been undertaken by proactive OEMs and subcomponent suppliers.
By Philip Totaro, Founder & CEO, IntelStor
Additionally, crane solutions which are 'one size fits all' will be important for streamlined fleet management as companies look for a single solution that can handle 1.0–4.0MW designs. Trade-offs in capacity and cost of such systems have been prohibitive in the past, but now as we look towards the future, components will be larger, but more modularised. This will enable on-board service cranes which are less bulky and more cost-effective to use.
Remote inspection technologies including cameras mounted on drones or tower-climbing robots, and even physically planted on the nacelle or hub, can provide cost-effective insights for maintenance or end of warranty inspections. The value, however, will not be in the image capture, but the image processing. Automation around the interpretation of crack propagation or other damage will be critical while still providing a human element to validate the analysis.
CMS and SCADA data analysis can also reduce O&M costs, extend the life of wind parks to minimise unscheduled maintenance, and streamline spare-parts inventory in accordance with identified service requirements and known upcoming component replacements.
The power plant control (PPC) system, which will leverage off the Internet of Things (IoT), will also enable several key O&M-related technologies that hope to offset the revenue impact of unplanned downtime and minimise the impact on planned maintenance. In addition to the energy output optimisation potential, we should expect to see PPC systems which can manage:
Maintenance scheduling of a wind farm based on lost income projections for turbine downtime.
Spareparts inventory management based on damage accumulation measurements, remaining useful life prediction and/or predicted maintenance interval. Lubricant quality, CMS and SCADA data analytics will all be incorporated into predictive models for turbine performance and maintenance.
Data analysis will be important, but data communication as well as visualisation of repair workflows will enable significant reductions in lost production time. The timely communication of service issues to the right level of technical skill will be key to identifying field issues and initiating suitable repairs. Tools which facilitate collaboration between on-site field technicians and remotely based engineers will enable faster diagnosis of turbine issues and faster implementation of solutions. A fully integrated platform which also feeds spares availability information will mitigate the downtime of
the repair.
Future O&M strategies which will be successful will enable more time-effective use of personnel, modularised components which have been designed for ease of service, and data analysis tools which benefit field technicians as well as operations teams.