Windtech Future
Published: 21 January 2016

21 January 2016
The centre of wind industry innovation is shifting eastwards. Far Eastwards. Increased cash flow among Chinese turbine OEMs has resulted in higher levels of R&D investment. The result is that the quality of innovations is improving, along with the competitiveness of products and service offerings.
By Philip Totaro, CEO, IntelStor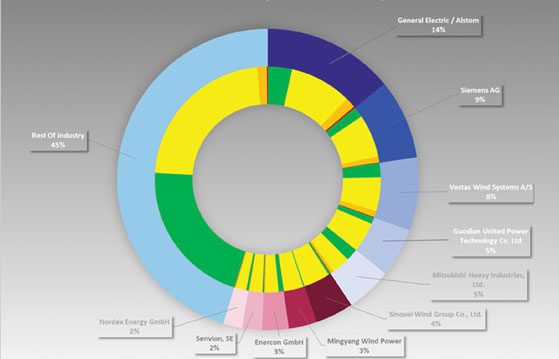 The Chinese OEMs will need these improvements in order to develop the type of competitive turbine product platforms that many European and North American OEMs have adopted or are in the process of adopting. These modular platforms with multiple power ratings, rotor diameters and hub heights coupled with a streamlined supply chain have been a major shift in wind project execution and services delivery in the past three years. This approach will also result in a 20% reduction in average onshore levelised cost of energy (LCOE) in the next seven years.
This trend towards enabling site-specific design is one which many Chinese OEMs are now striving to match as they cast their eyes on a global market presence. The first generation of technology and innovation, which was developed based upon in-licensed designs, is giving way to a second generation of home-grown technical solutions, which are now making their way to market.
One visible impact of this has been the appearance of three Chinese wind turbine OEMs on the top ten of the league tables of wind industry intellectual property (IP) asset ownership (Figure 1). Before 2012 only North American and Western European companies occupied these coveted spots, which are determined based on the number of patent holdings, and also assessed qualitatively to determine the industry relevance of their innovations.
Nevertheless, a detailed analysis of those innovations reveals the poorer quality of the innovations by Chinese OEMs in the past and a focus on solving industry challenges only faced in Asia. However, over the past three years, the quality of the innovations from Chinese OEMs has been improving, thanks to the aforementioned increased profitability and greater expenditure on R&D as a percentage of revenue. Chinese OEMs now more closely match European and American competitors with an R&D spend equivalent to 4.5% of revenue versus 5.3%.
Contrast this with a few years ago, when 2.9% was the average spend on R&D industry-wide in 2013, and Chinese OEMs spent an average of 2% with some well below. As that desire for global reach and market diversification takes hold, the timing and positioning of these precursor investments is noteworthy. More competitive products are not far away from market reality, and some companies are even seeking acquisitions to expedite their time to market.
Technology Trends
As for the specific areas of technology development, there are several noteworthy areas.
With the development of that second generation of product designs, the Chinese OEMs are utilising an interesting product development philosophy. They hope to do what Western companies no longer have the desire to do – develop 'clean sheet of paper' designs in an effort to leapfrog the conventional Western technology in a more competitive global market of the future.
Since all Chinese products must be made 'bankable' in Western markets, the Chinese OEMs are taking this opportunity to develop more reliable and potentially competitive drive-train and turbine architectures. The push towards drive-trains with two-stage or single-stage gearboxes and even enhanced direct-drive technologies can lead to a future competitive advantage which will result in significant CAPEX and OPEX cost reductions versus today's product platforms.
Complex terrain challenges in China are inspiring a new generation of logistics technology as well as a renewed desire to investigate segmented blades and tower concepts. Having modular product platforms is fine, but if the rotors and towers are not transportable to remote sites with very low wind speeds on ridges and mountains, then project execution risk is high. These technologies will also seek to be leveraged in Western markets in the coming years as more low wind speed sites are sought for exploitation.
Curtailments in China are actually leading to an interesting response, and a unique opportunity for technology leadership from Chinese companies. Given the sheer volume of renewables on the grid and the varying levels of integration we have seen over the years, the Chinese market has an opportunity to become a shining example for the rest of the world. Cutting-edge grid management technologies are in the process of being developed which will cut the levels of wasted production (AEP) by over 70%.
With capacity additions of wind alone set to exceed 20GW for the next few years, the Chinese grid will not just have significant redundancy and strength, but world-leading levels of renewable penetration (in gigawatts). This grid management technology has the potential to be one of China's great exports to the other parts of the world which also seek significant penetration of renewables both on a percentage basis and in capacity.
There is a coming wave of technological innovation from the East, enabled by the improved domestic outlook for many Chinese wind turbine OEMs. The understanding gained on how to make new technologies and products bankable will provide an impetus to develop more competitive solutions which have a higher likelihood of seeing export to Western markets.