Windtech Future
Published: 02 November 2015

02 November 2015
Manufacturing technology is often overlooked when it comes to wind, but it represents one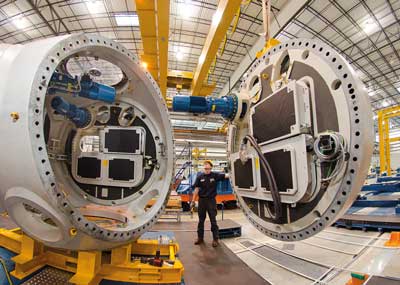 of the highest impact sectors of innovation in the industry. With the evolution of blade manufacturing from filament-wound technology to SCRIMP and now the almost ubiquitous VARTM process we have seen tremendous improvement in structural stability for blades in the past few years.
By Philip Totaro, Founder & CEO, IntelStor
Looking ahead for blade manufacturing technology, this trend shows no signs of slowing down as OEMs and sub-component suppliers seek to further improve quality as well as reduce cost and weight of blades.
We are anticipating a shift towards metal–composite hybrid materials in the blade that take advantage of the strength of carbon, without the cost penalty, and only modest weight increase versus carbon use. Selective placement of metals and the bonding process with composites has long been developed and applied in the aviation/aerospace industry, but the adaptation to wind's massive structures will require additional innovation.
3D printing has yet to make a meaningful impact, but look for this to become more pervasive for sub-component manufacturing of spar caps, shear webs, root elements and other structural components in the blade.
In the meantime, manufacturing automation still continues to see development and we anticipate that tape laying, fibre placement and automated manufacturing of structural sub-components should continue to flourish.
Gears and bearings will also see significant improvements in the manufacturing process as new materials are explored. New technologies such as asymmetric gear tooth profiles for helical gears which are desired for low noise and better reliability are demanding the design of new manufacturing fixtures and machining processes that go well beyond computerised numerical control.
We also look for generators to benefit from new designs and new materials that will introduce manufacturing challenges as well. Production and installation of windings for both DFIG as well as PMG stators (or rotors) still have yet to see benefit of significant manufacturing automation. We anticipate some OEMs and generator suppliers will make significant investments in these automation approaches to reduce the uncertainty associated with the hand winding process.
Precision castings also have opportunity for innovation as the tempering process can have a profound impact on component reliability.
The cost for producing austempered components has been reduced, making the use for main shaft production more attractive.
Lastly, the debate also continues regarding field manufactured or assembled components and whether quality can be maintained in this scenario which seeks convenience. While factory assembly and shipping of sub-component structures may be preferred due to the controlled environment, the size of component assembly being contemplated does make the case for field assembly more compelling given the logistics costs of large, integrated components.
Realistically, the cost of a 'pop-up' factory environment for near-site manufacturing would only make sense given a certain amount of production volume because of the costs which would be incurred for setup and teardown after every project. While this approach appears convenient, the cost has not yet reached a level where pervasiveness would enable more widespread us