Published: 03 November 2014

03 November 2014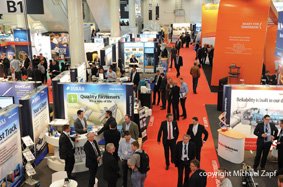 8 Halls, 1,250 Exhibitors and 33,000 Visitors
It was a good start for the new event WindEnergy Hamburg, which came to a close on Friday 26 September after four exhibition days at the Hamburg Fair ground. The new fair demonstrated its international character; more than 33,000 visitors from all parts of the world were there, getting information on the latest products and services from 1,250 exhibitors from 33 nations. A third of the visitors were from outside Germany, including 24 delegations from 22 countries.
The major points which visitors liked about the event included the good opportunities to make international contacts, the comprehensive presentation of innovations and the attractions of Hamburg as the venue. There was a great deal of interest in energy storage technology, which was additionally presented at the H2Expo industry fair, held in parallel with WindEnergy Hamburg. The expert presentations were also very well attended.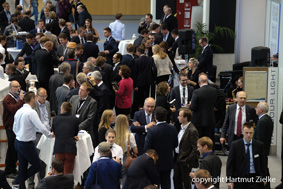 A representative visitor survey conducted by an independent market research agency showed that half the visitors were from the decision-making level of their companies. The visitors at WindEnergy Hamburg showed equal interest in onshore and offshore. The main focus of interest was on wind turbine manufacturers, followed by research and development. The high level of expertise on the part of visitors was emphasised as a very positive feature by a large number of exhibitors.
From the Exhibition Floor
With 1,250 exhibitors there were a lot of new products and services to discover. During the show several manufacturers introduced new turbines.
Siemens Energy introduced its new SWT-3.3-130 wind turbine suitable for moderate to low wind speeds. With its rotor measuring 130 metres in diameter, this turbine will be available in early 2017. The direct-drive generator operates with stronger permanent magnets to further enhance output.
Senvion SE is expanding its portfolio of its 3.XM series. The Senvion 3.4M114 and Senvion 3.2M114VG offer optimum yield at locations with average wind speeds. The turbines will be offered in three hub heights (93, 119 and 143 metres) and produced in series from summer 2015.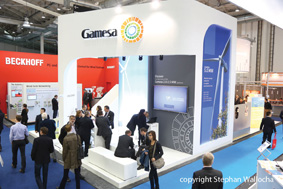 Gamesa has unveiled its new wind turbines, the G106-2.5MW and G114-2.5MW. The new turbines, designed for high and medium wind speed sites, come with a longer blade (106 metres and 114 metres respectively) and a higher nominal capacity of 2.5MW. The G106-2.5MW and G114-2.5MW produce 30% more power than the G90-2.0MW and G97-2.0MW models. The company also unveiled Gamesa WindNet PRO, an enhanced version of its production-optimising wind farm control and monitoring software. This tool upgrades Gamesa's existing SCADA system WindNet. It comes in three different configurations depending on the size of the wind farm: Gamesa WindNet PRO Advanced (for facilities with more than 25 turbines), Gamesa WindNet PRO Light (between 5 and 25) and Gamesa WindNet PRO Ultralight (less than 5).
Many suppliers also introduced new products of which we provide a short overview below.
Rexroth has developed a new gearbox platform for turbine manufacturers with a power range of 3MW to 4.5MW. With a compact gearbox consisting of two planetary gear stages and a helical gear stage, the company's consistent aim in developing the gearbox concept was to reduce the CoE and increase reliability. The modular concept allows rapid adaptation to customer-specific requirements, thus shortening the time-to-market. Rexroth has also standardised the parts.
Prüftechnik Condition Monitoring presented Vibguard XP, a new version of its online condition monitoring system Vibguard, which is especially suited for the wind industry. Vibguard XP is suitable for both onshore and offshore applications and is DNV GL certified (Det Norske Veritas – Germanischer Lloyd).
Leine Linde Systems has introduced IPMS, a new ice detection system for wind turbines. Conventional ice sensors warn against ice only after it has already formed, while IPMS relies on a preventive system.
fos4X GmbH is a relatively new company in the wind industry and it also offers an ice detection system. The fibre-optic ice detection system from fos4X GmbH has received Germanischer Lloyd certification. The fos4X sensors are based on fibre Bragg grating technology. This technology uses optical fibres with inscribed optical interference filters. The sensors determine temperature and strain based on the changing reflected wavelength.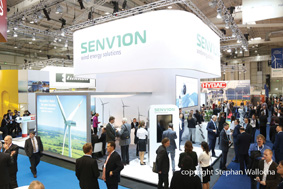 There are many service lifts on the market, with several large players such as Hailo Wind Systems, Avanti and Goracon. DualLift, a new player in the wind business, has developed a new drive system for turbine service lifts, UpMax. As a core innovation, DualLift is using roller chains instead of wire ropes. Roller chains are constructed for millions of bending cycles, and based on the form fit there is no measurable wear within the expected lifetime of a service lift.
Global Lightning Protection Services (GLPS) has introduced a wind turbine lightning protection test toolkit. The toolkit is specially designed for reliably and accurately measuring low resistances of lightning protection circuits (e.g. in blades between the root and the individual lightning receptors, but also in the hub, nacelle and tower circuits).
Ricardo and Kongsberg have announced that they have signed a framework agreement that will see Ricardo support the development of the Kongsberg Wind Farm Management System (WFMS) as well as related condition monitoring systems for a range of other industrial sectors.
This is just a summary of the event, and to get a complete overview I recommend, if possible, you attend the next show yourself, although with eight halls to discover you will need to make sure you prepare for your trip beforehand to avoid getting lost and overwhelmed with all the show has to offer.
WindEnergy Hamburg is a cooperation between Hamburg Messe and Messe Husum and Congress. The next WindEnergy Hamburg will be held in 2016 at the Hamburg Fair site, from 27 to 30 September. Next year, from 15 to 18 September, HUSUM Wind 2015 will be organised, with a focus on the German-language market in cooperation with Hamburg Messe and Congress.