Published: 30 September 2015

30 September 2015
The meeting place and shop window of the wind industry for over 25 years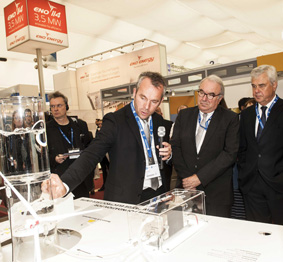 For the last 25 years HUSUM Wind has been the leading biennial trade fair for the wind industry. HUSUM is now increasingly focused on the core market of Germany and its neighbouring countries. From 15 to 18 September wind industry businesses and representatives came together at HUSUM Wind, to showcase their innovations and services – onshore and offshore – along the whole supply chain. This year almost 650 exhibitors showed their products and services and it looks like HUSUM Wind welcomed the expected number of 20,000 visitors.

There are many biennial festivals across the world, and true to its reputation for being more than just a trade fair, HUSUM Wind offered its exhibitors and visitors the full Husum package. There were a wide variety of experiences and entertainments to relax and enjoy yourself after a hard day at the exhibition, like the town hall reception, the Windwanderer Festival and HUSUM Wind Excursions.

Windcareer job fair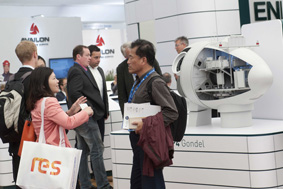 With the slogan See your future, the Windcareer job fair was held on the last day during HUSUM Wind. The event is dedicated to careers, training and retraining in the wind industry. The idea behind Windcareer is to familiarise pupils, students and jobseekers with the various areas of work in the wind industry and to find jobs for skilled workers. A seminar programme is also being offered parallel to the job fair. Visitors have the chance to have their application folders and CVs checked by experts, and can also attend a training session for job interviews, as well as speeches by various enterprises. Graduates and students will also be on hand to give an insight into their courses and the experiences they have had.

From the Exhibition Floor
During the show there were a lot of new products and services to discover. During the show several manufacturers introduced new turbines for medium and lower wind conditions. Siemens showcased its latest onshore model the SWT-3.3-130 at HUSUM Wind. The SWT-3.3-130 wind turbine is currently undergoing trial testing. In autumn 2015, before the start of serial production, the SWT-3.3-130 will be placed in Südermarsch, the wind test area south of Husum. The SWT-3.3-130 is the newest onshore model from Siemens for locations with medium and lower wind conditions. Production of the series will start in 2017. The German prototype with a hub height of 85 metres is meant as a preparation for the German market. The SWT-3.3-130 has a 3.3MW generator and a 130 metre rotor diameter.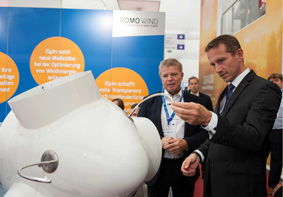 Nordex also introduced a a turbine tailor-made for light-wind German regions. The N131/3300 is a new version of the N131/3000 from the Generation Delta range. With a rotor diameter of 131 metres and a nominal output 10 per cent higher than that of the N131/3000, it can boost yields by between 4 and 6 per cent depending on the location. The turbine is currently undergoing field testing and can already be included in applications for permits for 2016.

The Senvion 3.4M140 is equipped with a sound-optimised blade profile and a new pitch control system to reduce turbine load. The Senvion 3.4M140 will be available from 2018 in hub heights of 110 and 130 metres. The longer 68-metre blades at these tower heights permit high yields at low-wind locations such as forested and mountainous areas.

Many suppliers also introduced new products of which we provide a short overview below.

Mita-Teknik continues its development of solutions for the wind industry by introducing the latest in condition monitoring – MiCMS. MiCMS Condition Monitoring is designed to effectively optimise the overall output of the wind turbine, and features the latest in predictive maintenance strategy. MiCMS Condition Monitoring is GL certified by DNV for both stand-alone and integrated versions.

Winergy presented new options for the maintenance and service of wind turbine gearboxes. Winergy has now developed a procedure in which the bearing of the planet carrier can be replaced without having to remove the gearbox from the nacelle. With the aid of specially designed fixtures it is possible to move the gearbox in the nacelle and, thus, the bearing can be removed. This procedure has been successfully tested on a gearbox on a customer's turbine and others are to follow.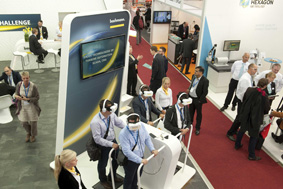 ITS presented its new management software for renewable power plants. RePLANT is a solution for universal and integrated management of wind power, solar and other renewables. It comes with a new user interface for large screens, multi-monitor use and mobile access and has multi-language capabilities. RePLANT is designed for larger and mixed portfolios of renewable power plants with direct access to real-time process data.

A new self-supported wind measurement tower from windhunter allows for high quality wind measurements even at cramped sites, very complex terrain, or when it is impossible to use guy wires, as with offshore platforms. The new self-supported tower is available up to 120 metres in height. Although the structure needs to be stronger due to the missing guy wires it is still slim enough to keep the influence on the airflow at the sensors as low as possible. This guarantees high quality wind measurement according to IEC 61400-12 and German TR6 standards – even when traditional met masts cannot be used.

Hailo introduces GLOBALlift H during the show this year. The Hailo GLOBALlift H range will mainly be manufactured near where it is deployed. Housings are economically prefabricated in series. All further components are supplied in a bespoke form in accordance with the tower layout and the country-specific conditions and completed at the international production support facilities. In this way, the service lifts can be adapted 100 per cent to the specific customer requirements. Susceptibility to faults and the resulting maintenance times should be reduced as the devices are made up of fewer, and simultaneously optimised, individual components. All components are manufactured in accordance with high internal quality standards to guarantee uncompromised safety.

This is just a summary of the event, and to get a complete overview I recommend, if possible, you attend the next show yourself in 2017. I can assure you, a trip to Husum is certainly worthwhile. You may also download the HUSUM Dailies we produced during the show at www.windtech-international.com/husum-daily2015.

HUSUM Wind is a cooperation between Messe Husum and Congress and Hamburg Messe. The next HUSUM Wind will be held in 2017, from 12 to 15 September. Next year, from 27 to 30 September, WindEnergy Hamburg 2016 will be organised, at the Hamburg Fair site market in cooperation with Messe Husum and Congress. See you there!