Published: 06 November 2013

06 November 2013
Driving Continued Growth in the Wind Industry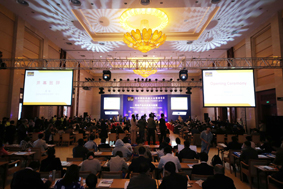 The 6th China Wind Power Conference & Exhibition (CWP2013) was held between 16 and 18 October in Beijing. The annual event was organised among others by the China Wind Energy Association, the China Renewable Energy Industry Association and the Global Wind Energy Council (GWEC). This year's theme was 'Driving Continued Growth in the Wind Industry'. Windtech International joined the event as a media partner.
By Joost Siteur, Asia Representative, Windtech International
The conference programme offered a range of specialised sessions and side events, covering a wide variety of topics such as future direction of policy, challenges to OEM manufacturers, resource assessment and forecasting, and analysis of accidents, as well as storage, off-grid and distributed energy.
The Chinese Market
At the conference and exhibition the status and prospects for the Chinese market were naturally hot topics of discussion. After a remarkable growth in installations between 2006 and 2011, the market experienced a serious downturn, largely caused by insufficient off-take and grid capacity in areas with the highest wind resources in the northern parts of the country. The government is now working to resolve the grid constraint with the planning of transmission lines from the high-wind areas to the high-demand areas in the east. While the grid issue is being resolved, developers and turbine manufacturers are increasingly looking to explore areas with less favourable wind conditions in the southern and central parts of the country. This will require the development of turbines specially adapted to local conditions such as low wind speeds, high altitudes and typhoons, as well as extremely high and low temperatures. Several turbine manufacturers are already introducing new turbines for these sites and national standards for such turbines are under development.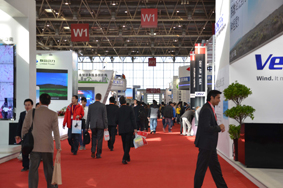 The rapid growth of the past led to a surge of Chinese companies entering the wind market, with more than 80 turbine manufacturers during the boom years. Quality was not always of the highest concern, and the downturn has caused a major shakeout among the local manufacturers, with around 20 remaining today. Goldwind, which celebrated its 15-year anniversary at the conference, is expected to remain the frontrunner. The company has the highest number of installed turbines in China so far and it is also making further inroads in the international market with new projects in Latin America and elsewhere.
Technology Developments
At a session on the future of technology, Feng Zhao of BTM Consult discussed some of the major past trends and likely future developments. Drive-train systems are still dominated by conventional gear drive systems but the market share of direct drive and medium speed will continue to grow, especially when offshore wind takes off. Two-bladed turbines are making a resurgence in the offshore market, due to their easier logistics and installations. In addition, the International Energy Agency (IEA) estimates they have up to 10% lower cost of energy. Two Chinese turbine manufacturers have already introduced two-bladed models for the offshore market. While there has been considerable debate over gearboxes as a source of turbine failure, Zhao argued that gearboxes are in fact not the main source of turbine failure, with generators and rotors as more common culprits.
The conference also showcased a number of new initiatives that may be implemented in the next few years. For example, Sway Turbine from Norway presented an innovative structural rotor/hub concept. Arguing that the inner 15–20% of the blades accounts for 50% of the blade weight in conventional designs, the company has come up with a spoked rotor ring, allowing the blades to be positioned 15 metres further outboard. The generator is integrated in the 25-metre diameter rotor support ring. The resulting mass reduction in the blades and generator translates into 20% less turbine costs compared to similar sized conventional designs. Sway is looking for partners to develop the concept further and introduce the 10MW model to the market.
IEA Technology Roadmap: Wind Energy – 2013 Edition
At a side event, the IEA released the second edition of its Technology Roadmap dedicated to wind energy. The report recognises the very significant progress made since the first edition in 2009. The technology continues to improve rapidly, and costs of generation from land-based wind installations continue to fall. Wind power is now being deployed in countries with good resources without any dedicated financial incentives.
The report expects the cost of wind energy to decrease further by as much as 25% for onshore and 45% for offshore by 2050 on the back of strong R&D to improve design, materials, manufacturing technology and reliability, to optimise performance and to reduce uncertainties for plant output. Cost reduction is the main driver for technology development but others include grid compatibility, acoustic emissions, visual appearance and suitability for site conditions. To date, wind power has received only 2% of public energy R&D funding and greater investment is needed to achieve wind's full potential.
Some technology developments that are foreseen by 2030 include:
Further specialisation of wind turbines for diverse operating conditions such as icy climates, tropical cyclones and low-wind conditions, with commercial-scale prototypes expected to be available by 2015.
Advanced rotors with stronger and lighter materials to enable larger rotors as well as novel rotor architectures and active blade elements.
Advanced generator designs with alternatives to rare earth magnets, improved grid support through power electronics and reliability improvements of gearboxes.
Novel designs for deep offshore, such as 10–20MW turbines and floating offshore wind plants.
From the Exhibition Floor
More than 300 companies, half of which were international, showcased their products and services at the exhibition. While the exhibition was somewhat smaller than last year it was well visited. Major OEM turbine manufacturers such as Vestas and Goldwind attracted most of the attention, but specialised supply chain and service companies generated a lot of interest as well. Some of the European companies created high visibility in special country pavilions for Denmark, Norway, Germany, UK and the Netherlands. Overall, many visitors and exhibitors expressed a careful optimism about a recovery of the Chinese wind power market by next year.
China Wind Power 2014
The 7th China Wind Power will be held between 22 and 24 October 2014 in Beijing. See you there!