Published: 25 May 2016

25 May 2016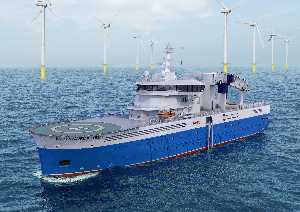 Uptime International has entered into a contract with Damen for delivery of a Uptime access solution for their newbuilding Bibby Wavemaster 1 that Damen are building for Bibby Marine Service.
The delivery consists of an Uptime motion compensated gangway and an adjustable pedestal. The gangway will also be integrated with an elevator for personnel transfer. Damen's new vessel is designed from scratch with offshore wind in mind. The vessel design represents more than two years of research, tests and development, making it possible to provide a fast and safe access to turbines in 3,1 metre wave height.