Published: 30 April 2021

30 April 2021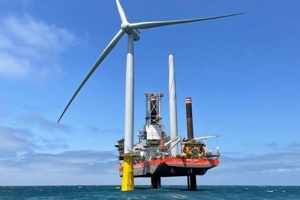 Total has signed an agreement with wpd to acquire a 23% interest in Yunlin Holding, the owner of Yunlin offshore wind farm located off the coast of Taiwan, around 200 kilometers southwest of Taipei.
The project, currently under construction, represents production capacity of 640MW and benefits from a 20-year guaranteed-price power purchase agreement (PPA) with the state-owned company Taipower of USD 250/MWh for the first 10 years and USD 125/MWh for the following 10 years. For this acquisition of a 23% interest, Total will pay to wpd a consideration based on its share of past costs. Located around 10 kilometers offshore at water depths ranging from 7 to 35 meters, the wind farm will comprise 80 wind turbines with a unit capacity of 8 MW. Construction is scheduled to be completed in 2022. The project is currently 48%-owned by wpd, 25% by EGCO (Electricity Generating Public Company Limited) and 27% by a consortium of Japanese investors led by Sojitz (Sojitz Corporation, ENEOS Corporation, Chugoku Electric Power, Chudenko Corporation and Shikoku Electric Power).