Published: 11 March 2016

11 March 2016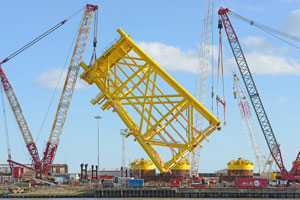 Sembmarine SLP (SLP) has been working with Siemens Transmission and Distribution Ltd (STDL) to build an offshore facility for the Dudgeon Offshore Wind Farm owned by Statoil, Statkraft and Masdar. The wind farm will be located 20 miles of the coast of Cromer in North Norfolk.
The facility comprises of a topside and jacket structure, the latter of which uses suction bucket technology, a first for a substation in UK waters, with around 6 metres of the 9 metres bucket height being sunk into the sea bed on installation. In early March SLP took the project another step closer to completion by upending and jacking up the jacket. The jack up operation involved jacking up the 954 tonne jacket to 14 metres high using a Mega Jack 800 jacking system provided and operated by heavylift specialists ALE. The suction buckets were positioned under each of the jacket legs using SPMT trailers to manoeuvre them into place. The Mega Jack 800 then lowered the jacket and held it in place whilst the suction buckets were welded to the jacket by SLP operatives.