Published: 03 April 2017

03 April 2017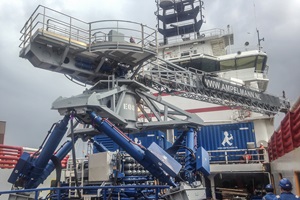 Ampelmann's E1000 motion compensated access system performed over 12,000 people transfers and 7,000 cargo transfers safely between an offshore support vessel and the wind turbines over a ten month period. The increase in operational man-hours on the maintenance programme for the windfarm has resulted in a contract extension for Ampelmann by Siem Offshore Contractors.
The Ampelmann E1000 motion compensated offshore access system, with a 30 metre gangway, was installed on the Siem Marlin offshore support vessel to get people and cargo to the turbines to carry out maintenance. With its ability to compensate for vessel movements caused by wind, waves or currents, the E1000 enables the safe passage of people from the vessel to the wind turbine, in even the harshest of conditions. By inserting four hydraulic pins, the telescopic gangway of the E1000 can then be transformed into a fixed crane boom for fully motion compensated cargo transfers of up to 1,000 kg.