Published: 26 March 2018

26 March 2018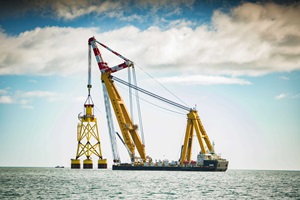 North-east Scotland has marked a UK offshore wind first following the successful installation of the first suction bucket jacket foundation for Vattenfall's 11-turbine European Offshore Wind Deployment Centre (EOWDC).
The EOWDC in Aberdeen Bay is the first offshore wind project to deploy the foundations at commercial scale with each of the 11 steel jacket foundations. The 25,000 tonne Asian Hercules III lifted and installed the first 1,800 tonne structure. As Scotland's largest offshore test and demonstration facility, the 92.4MW EOWDC will trial next generation technology and, once constructed, will generate the equivalent of 70% of Aberdeen's domestic electricity demand.