Published: 31 March 2017

31 March 2017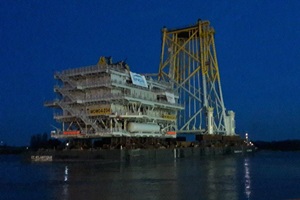 The consortium comprising ENGIE Fabricom and Iemants has reported that Walney 4 set out from the ENGIE Fabricom site in Hoboken bound for the wind farm in the Irish Sea. Standing 35 metres tall and weighing in at 2,900 tonnes, this is the second substation to leave the ENGIE Fabricom site this month. The substation was accompanied by its 48-metre-high jacket foundation.
The jacket was fully assembled on the Iemants site in Vlissingen in the Netherlands and then transported to Hoboken earlier this month. The Walney wind farm in the Irish Sea, 19 km off the coast of Cumbria, already comprises two substations. It is currently being expanded to include two additional substations. ENGIE Axima was also involved in building the substations. It delivered five rooftop units with a capacity of 4000 m³/h for treating fresh air, as well as 56 air conditioning cabinets and associated condensing units. Air treatment at substations is very important, since the facilities are located at sea in an extremely humid and brackish environment. The air conditioning system dehumidifies the air so that the relative humidity remains under a certain limit, while also filtering salt out of the air in order to prevent corrosion. It lets in fresh air and creates overpressure so that no untreated air comes into direct contact with the installation. And it also controls the temperature so that the installations do not overheat.