Published: 19 July 2022

19 July 2022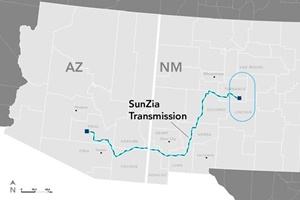 Pattern Energy has announced it has acquired the SunZia Transmission project from SouthWestern Power Group, a wholly owned subsidiary of MMR Group. SunZia Transmission consists of a 550-mile bi-directional ± 525 kV high-voltage direct current (HVDC) transmission line between central New Mexico and south-central Arizona, with the capacity to transport up to 3,000 MW of clean, renewable energy.
SunZia Transmission previously awarded the full 3,000 MW of capacity on the transmission line to Pattern Energy. Pattern Energy is developing the SunZia Wind project, a 3,000+ MW facility in New Mexico, which will utilize the SunZia transmission line to provide renewable electricity to power the needs of 2.5 million Americans annually. SouthWestern Power Group will maintain ownership of a second 500 kV high voltage-alternating current (HVAC) transmission line, El Rio Sol Transmission. Pattern Energy expects to begin full construction of the SunZia Transmission and SunZia Wind projects in 2023 with the completion of construction and start of operations for SunZia Transmission expected in 2025, and SunZia Wind in early 2026.