Published: 31 May 2023

31 May 2023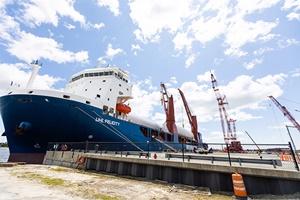 Iberdrola has received the first shipment of components for the 62 wind turbines that will make up the Vineyard Wind I offshore wind farm at the port of New Bedford, USA. Specifically, these are the tower sections, manufactured in Portugal.
The towers will arrive in three sections. Once onshore, they will be installed at the port before being partially assembled and loaded onto a specialised barge that will transport the parts to the wind farm site from the summer. Once the project, located 15 miles south of Martha's Vineyard and 34 miles south of the Cape Cod peninsula, completes construction and comes online, it will have an output of 800 MW. he Vineyard Wind I project, which began construction in 2021 and is expected to be operational in 2024, will involve an investment of $3 billion, secured through contracts with the state's three major utilities. Iberdrola, through Avangrid Renewables, is participating in the development of the wind farm together with Copenhagen Infrastructure Partners (CIP) through a 50/50 joint venture. Once construction of the wind farm is completed and commercial operation begins, Iberdrola will take the lead in the operation phase of the project and assume responsibility for controlling the operation and management of the facility.