Published: 23 March 2022

23 March 2022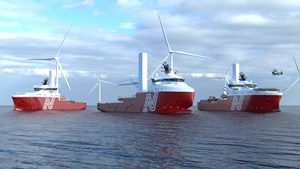 Inmarsat has reached an integrated connectivity agreement with Norwind Offshore, a vessel owner that supports the development of renewable offshore energy. The partnership covers connectivity and digitalisation needs for three Service Operation Vessels (SOV) operated by Norwind.
The contract includes an existing Platform Supply Vessel undergoing retrofit to become a SOV, with delivery due in May 2022, and a letter of intent covering two newbuilds. All three vessels will have Inmarsat's Fleet LTE. Fleet LTE allows vessels to switch automatically between 4G offshore fibre networks to Fleet Xpress Ka-band service when sailing out of LTE coverage zones and to access FleetBroadband's resilient L-band coverage for unlimited back-up. The vessels will also have Fleet Data and Fleet Connect to facilitate digitalisation onboard and Fleet Hotspot for crew wellbeing.