Published: 17 March 2023

17 March 2023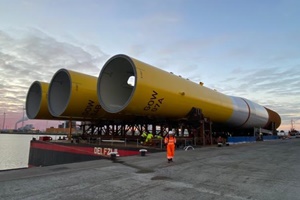 Jan De Nul Group has announced that it has started the T&I contract for the construction of Ørsted's 242MW Gode Wind 3 and 900MW Borkum Riffgrund 3 offshore wind farm in Germany.
A first batch of 3 monopile foundations has left Steelwind's yard in Nordenham (Germany) to Eemshaven (The Netherlands), which is part of Groningen Seaports.
Jan De Nul's scope includes the transport and installation of 106 wind turbine monopile foundations and one offshore substation foundation, including associated topside. Subcontractor Wagenborg has deployed its Wagenborg Barge 8 for the transport of the monopiles foundations from Steelwind's yard in Germany to marshalling harbour Eemshaven in The Netherlands. In summer, Jan De Nul's heavy lift vessel Les Alizés will arrive on site and install the first monopile foundation offshore.
Both wind farms will use 11MW Siemens Gamesa turbines and are located in the German North Sea. The Borkum Riffgrund 3 will be located adjacent to Ørsted's existing offshore wind farms Borkum Riffgrund 1 and Borkum Riffgrund 2. Gode Wind 3 will be close to Ørsted's Gode Wind 1 and 2. Once in full operation in 2024 and 2025, respectively, these wind farms will generate enough electricity to power approx. 1.2 million German households every year.