Published: 14 July 2017

14 July 2017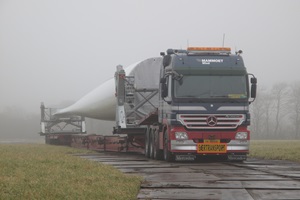 Mammoet recently completed the transportation of a wind energy prototype for a repowering project at the Drantum II wind energy site near Drantum, Denmark. For this project, Uhre Wind Power charged Mammoet with the transportation operations needed to get the old wind turbine off site and bring the new replacement to its final destination. The newly designed Siemens SWT-3.15-142 prototype wind turbine has lightweight carbon blades that measure 69 meters and a hub height of 165 meters.
Thorough analysis revealed that the blades could become unstable during transportation. To ensure the blades would be transported safely and within the planned schedule, Mammoet designed two custom built support frames which would keep the structural integrity of the blades intact. The unloading area posed another challenge; the available space limited the laydown area which meant that not all components could be delivered in advance. Several loads were therefore transported directly to the crane during both de-rigging of the old turbine and the installation of the new prototype. Providing just-in-time delivery, Mammoet facilitated the project to stay on schedule.