Published: 27 August 2020

27 August 2020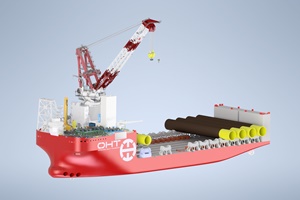 MacGregor, part of Cargotec has received an order for delivery of the monopile installation system to be installed on the OHT offshore wind foundation installation vessel, Alfa Lift, being built at the China Merchants Heavy Industry shipyard in Jiangsu, China. The monopile installation system is scheduled to be delivered during the fourth quarter of 2021.
Scope of supply includes the engineering, procurement and construction of the monopile lifting, skidding and transfer system, which is an integral part of the installation process undertaken by employing an upending tool and motion compensated gripper frame. The motion-compensated gripper frame will be closely interfaced with the vessel's dynamic positioning and control system in an integrated solution developed jointly by MacGregor and Kongsberg Maritime.
Alfa Lift is scheduled for delivery in 2021 and she will feature a 3,000t main crane, a 10,000+ m² 'smart deck, capable of carrying and installing up to 14 XL monopiles per voyage and will be able to fully submerge the main deck to a depth of 14.66m.