Published: 19 August 2021

19 August 2021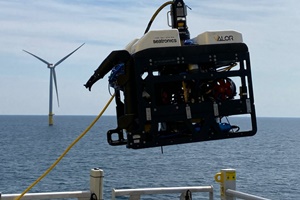 Acteon recently supported Siemens Gamesa with a cable survey for the Coastal Virginia Offshore Wind (CVOW) pilot project. The scope of work covered turbine foundation ROV inspection and surveys of export and array cables, and the seabed around each turbine foundation.
The CVOW export cables are about 45 km and the array cables 1 km long. The survey was performed by Terrasond, a product and service line brand within Acteon's geo-services segment, from the Atlantic Endeavor, the CVOW project's dedicated crew transfer vessel (CTV), provided by Atlantic Wind Transfers, that was specially modified for the work. In
September 2020
, Acteon, entered into an agreement with Siemens Gamesa to jointly provide a fully integrated offshore wind turbine operations and maintenance (O&M) package for the CVOW pilot project. The CVOW pilot project is owned by Dominion Energy. It is located about 43.5 km off the Virginia coast. Both Siemens Gamesa SWT-6.0-154 offshore wind turbines have been operational since October 2020.