Published: 07 September 2017

07 September 2017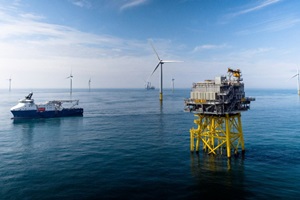 This week saw the last of the 67 wind turbines being installed on the Dudgeon field and all of them are now producing electricity. Thirty-two kilometres off the coast of Norfolk in England the wind farm has grown gradually since the first turbine was installed at the beginning of the year. The wind farm was completed at the agreed time and below the budget of GBP 1.5 billion that was set when the investment decision was made in 2014.
The Dudgeon project started its 2017 marine season record-early. Already on 2 January, the Sea Challenger lifting vessel mobilized in Hull, England, and lifted the first four towers, the first four nacelles and the first 12 rotor blades on board to be installed on the field. Since then, the lifting vessel has returned to quay 17 times to pick up new turbine parts for the field. The record for turbine installation is less than 18 hours, and the next day they were producing electricity for the grid. The offshore wind farm will be operated from Statoil's office in Great Yarmouth, which is also operating the Sheringham Shoal offshore wind farm located 20 kilometres west of Dudgeon.