Published: 12 June 2018

12 June 2018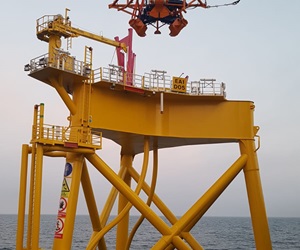 On 9 June, Van Oord finished installing the first jacket foundation on the East Anglia ONE project. ScottishPower Renewables commissioned Van Oord to function as lead contractor responsible for transport and installation of the offshore wind turbine foundations.
The wind farm's 102 three-legged jacket foundations will be installed at depths of down to 55 metres in the southern North Sea. Temporary Works Design (TWD) provided a Jacket Lifting Tool to Van Oord for lifting of the jacket foundations. The tool was officially handed over early February, fully load tested and certified. The lifting tool is adaptable for different flange diameters so can be used for future installation projects as well.
The East Anglia ONE offshore wind farm is located 45 kilometres southeast of the town of Lowestoft, UK. Its 102 Siemens 7MW wind turbines will deliver a total of 714MW. The wind farm becomes operational in 2020.