Published: 31 August 2021

31 August 2021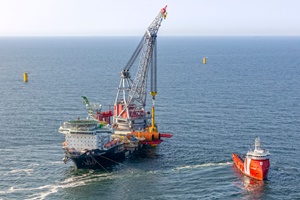 After many months of preparation, the installation of the foundations of Dutch offshore wind farm Hollandse Kust Zuid has now started. The offshore construction of the Hollandse Kust Zuid wind started in the beginning of July. Over the next two years, the windfarm will be built off the Dutch coast.
To guarantee efficient use of materials such as steel, each foundation is designed specifically for the location where it will be installed. The heaviest and largest monopile weighs 955 tons and is 75 metres long, while the lightest and shortest foundation still weighs 735 tons and measures 62 metres. The monopiles will be installed in water depths varying from 17 to 28 metres. The foundations and secondary steel components are shipped from foundation manufacturer Sif's yard on the Maasvlakte area in the Rotterdam harbour using the installation vessel Seaway Strashnov. The ship has a crane that lifts the monopile foundation into the water and lowers it until it reaches the seabed. Once the foundation is in position on the seabed, a hydraulic impact hammer is used to drive the pile to the final penetration depth.
Hollandse Kust Zuid OWF is owned jointly by Vattenfall and BASF and will have a total capacity 1,500MW. The wind farm will consist of 140 11MW turbines and full commissioning is expected in 2023.