Published: 29 August 2022

29 August 2022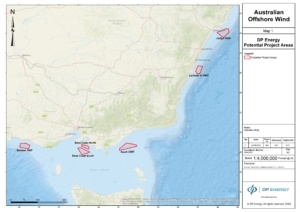 DP Energy has announced its plans for the development of offshore wind in Australia. The map outlines the first five proposed areas in which DP Energy has begun development and feasibility works in the hope of progressing to a feasibility and then commercial licence.
These areas are off the coast of Warrnambool in Western Victoria, Wonthaggi and Port Albert in the Gippsland Region, and Wollongong and Newcastle areas in NSW.