Published: 19 June 2020

19 June 2020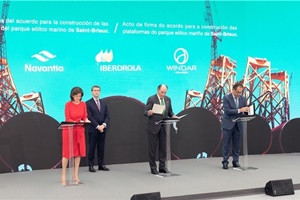 Iberdrola, through its subsidiary Ailes Marines, has awarded the Navantia-Windar UTE (temporary business consortium) the construction of 62 jackets and the necessary piling for the Saint-Brieuc offshore wind farm which the energy company is developing off the coast of Brittany, France.
The agreement signed, worth € 350 million, comprises the fabrication of the jackets by Navantia at its Fene facilities and the piling by Windar at its Avilés site. The final assembly of all component parts will be completed at the Galician shipyard facilities. Navantia-Windar is also to open a plant in Brest, France, to make the stabbings, lower joints and truss structures for 34 of the 62 jackets. The contract signed today between Iberdrola and Navantia-Windar will help create 2,000 direct jobs.