Published: 06 August 2020

06 August 2020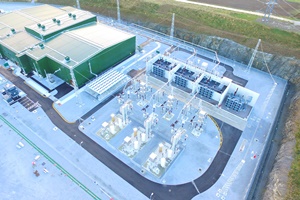 Hitachi ABB Power Grids has won an order from Scottish and Southern Electricity Networks (SSEN) Transmission, part of the UK energy company SSE, to enable Europe's first multi-terminal high-voltage direct-current (HVDC) interconnection. The link, which will connect Shetland to the UK transmission system and will enhance security of power supply and help transmit wind power generated on the islands.
Hitachi ABB Power Grids will deliver and commission a HVDC system, facilitating a multi-terminal link, providing flexibility to transfer power in multiple directions, based on supply and demand. The HVDC system will convert the harnessed wind power from Alternating Current to Direct Current at an HVDC Converter Station. This power will then be transmitted via underground and subsea cables to an HVDC switching station at Caithness, in the north of Scotland. It will then be transferred via the Caithness Moray HVDC link before being converted back to Alternating Current for onward transmission to meet electricity demand in the north of Scotland and beyond, forming a three terminal DC-system.