Published: 08 December 2020

08 December 2020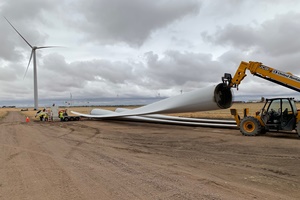 GE Renewable Energy has announced that it has signed a multi-year agreement with Veolia North America (VNA) to recycle blades removed from its US-based onshore turbines during upgrades and repowering efforts. Through this agreement, GE plans to recycle the majority of blades that are replaced during repowering efforts.
Veolia will process the blades for use as a raw material for cement, utilising a cement kiln co-processing technology. Blades that have been removed from turbines will be shredded at VNA's processing facility in Missouri and then used as a replacement for coal, sand and clay at cement manufacturing facilities across the US. On average, nearly 90% of the blade material, by weight, will be reused as a repurposed engineered material for cement production. More than 65% of the blade weight replaces raw materials that would otherwise be added to the kiln to create the cement, and about 28% of the blade weight provides energy for the chemical reaction that takes place in the kiln.
This fall VNA has processed more than 100 blades so far. VNA employs 20 people from the area at the Missouri processing facility, which is located about 70 miles northwest of St. Louis. The resulting cement has the same properties and performance as cement manufactured using traditional means, meeting all applicable ASTM standards.