Published: 09 December 2020

09 December 2020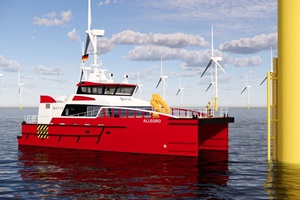 Damen Shipyards has signed a contract with Opus Marine for the delivery of a Fast Crew Supplier (FCS) 2710, to be named Allegro. The company will operate the vessel in support of its charterers, serving the offshore wind industry in the German section of the North Sea.
Damen will deliver the vessel to Opus Marine in March 2021. The relative speed of delivery comes as a result of the shipbuilder's practice of building standard vessels in series for stock. At the time of the contract signing, the FCS 2710 was already being constructed at Damen's yard. Opus Marine operates a fleet of crew transfer vessels, amongst which is a Damen FCS 2610 named Verdi. Like its predecessor FCS 2610, the FCS 2710 has a twin axe bow in order to provide safe, comfortable transportation even in rough seas allows. The FCS 2710 is able to operate in water over 2 metres wave height.