Published: 08 December 2020

08 December 2020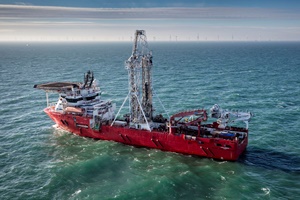 Fugro has been awarded three geotechnical investigation contracts for IJmuiden Ver, an offshore wind farm (OWF) zone to be developed in the Dutch part of the North Sea.
The investigations for IJmuiden Ver are the most extensive the Netherlands Enterprise Agency (RVO) has organised to date and the resulting OWF zone will generate a total of 4GW of renewable energy. The contracts include seabed investigation, a laboratory testing programme, and development of an integrated ground model. The fieldwork, which comprises seabed cone penetration tests (CPTs), thermal conductivity tests, vibrocores and boreholes, will run from February to August 2021 and will be performed from Fugro's DP2 geotechnical vessels.