Published: 01 December 2021

01 December 2021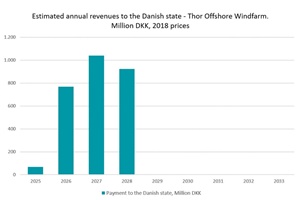 This is the first time a tendering procedure has been completed for offshore wind energy in Denmark without aid. The Ministry of Climate, Energy and Utilities briefed the parties to the Energy Agreement that Thor Wind Farm I/S, where stakeholders are RWE AG, RWE Renewables GmbH, RWE Renewables Management UK Limited, has won the Thor Offshore Wind Farm.
Several bidders offered to build the 1000MW offshore wind farm with the largest possible capacity and at a minimum price of only 0.01 øre/kWh. Therefore, in accordance with the tender conditions, the tendering procedure was decided by a drawing of lots. The Danish Energy Agency expects to invite the winner of the concession to a meeting very soon to discuss the future process. The Danish Energy Agency expects to sign the concession agreement with Thor Wind Farm I/S within 4-6 weeks.
It is expected that Thor Offshore Wind Farm will produce electricity from about 2026. With the expected electricity prices, it is anticipated that the winning bidder will have paid the state the DKK 2.8 bn. over very few years (see figure). After this, in practice there will be no financial transactions between the state and the winning bidder, and the wind farm will be run on purely commercial terms, without support, for the rest of its anticipated 30-year life. The grid connection is included in the bid price (i.e. the offshore transformer substation, including the substation onshore and cables up to the transmission grid in Idomlund).