Published: 19 August 2022

19 August 2022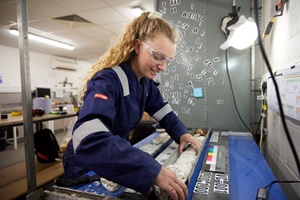 Fugro has completed fieldwork on a geotechnical site investigation for SSE Renewables' Arklow Bank Wind Park Phase 2. This 800MW offshore wind park is located approximately 6 to 13 km off the coast of Ireland, in an area known for its unpredictable metocean conditions.
Fugro developed a bespoke casing system designed for the offshore site conditions to enable survey work to be completed with minimal downtime. The acquired Geo-data will be used to understand the site's subsurface conditions and support foundation designs and installation. Fugro also engineered a full suite of purposely designed conductor casing handling devices to remove manual intervention, improving health and safety of deck crew and ensuring deployment efficiency within the short slack water windows. Laboratory testing is currently underway, building on the site testing completed in Fugro's offshore laboratory, allowing all acquired samples to be analysed efficiently with the resulting geo-data used to inform foundation designs.