Published: 06 May 2021

06 May 2021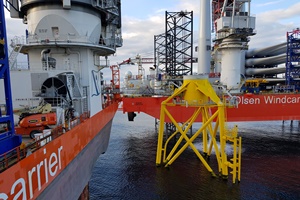 Fred. Olsen Windcarrier (FOWIC) is supporting Siemens Gamesa Renewable Energy (SGRE) with extended vessel capacity by temporarily mobilising a second installation vessel, Bold Tern, to the APAC region.
In 2018, FOWIC was awarded a contract with SGRE for the transport and installation of wind turbines on the Yunlin offshore windfarm in Taiwanese waters using the installation vessel Brave Tern. FOWIC and SGRE have now signed an amendment extending the charter period which will allow Brave Tern to complete the Yunlin project in a continuous campaign. To facilitate this, Bold Tern will depart Europe in summer 2021 to undergo the planned crane upgrade and subsequently fulfill FOWIC's other contract obligations for the 2022 season in the APAC region. FOWIC's third wind turbine installation vessel, Blue Tern, will continue to secure timely execution of the Moray East project in the UK, which up to this point has been using Bold Tern for turbine installation.