Published: 06 April 2017

06 April 2017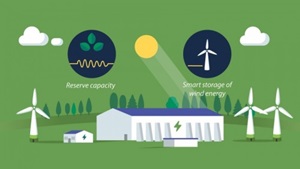 Eneco and Mitsubishi Corporation (MC) are going to construct, under the name EnspireME, the largest battery system in Europe. This battery system will be located in Germany and enables the companies to supply sustainable reserve capacity to the European electricity grid. Both parties will also start a pilot project involving the storage of locally produced surplus wind energy.
The battery system will be able to take over the role of primary reserve provider and, thus, forms a sustainable alternative for the backup supplied by coal and gas fired power plants. The battery will be located next to a substation in the municipality of Jardelund in Schleswig-Holstein, close to the border with Denmark. With the support of the German federal state of Schleswig-Holstein, Eneco and MC will start a pilot project that will involve the connection of nearby wind farms to the battery system. If there is surplus capacity or an overload on the grid, these wind farms will be able to temporarily supply their electricity output to the battery system. The battery is a Lithium-Ion system of 48 MW and a capacity of over 50 MWh. The battery system, including the power conversion system and controls, will be supplied and integrated by NEC Energy Solutions and it is expected that the battery system will be put into operation at the end of 2017.