Published: 16 March 2022

16 March 2022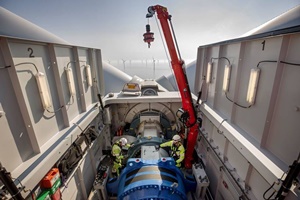 Deutsche Windtechnik has won an EU tender carried out by DanTysk Sandbank Offshore Wind to provide O&M service for the offshore wind farms DanTysk and Sandbank. Both wind farms are owned by Vattenfall (51 %) and Stadtwerke München (SWM) (49 %).
The company will provide maintenance and corrective maintenance of various items for a total of 152 Siemens SWT-3.6MW turbines (80 of these at the DanTysk wind farm) and SWT-4.0MW (72 at the Sandbank wind farm). The agreement also covers the maintenance of the transition pieces, the lifts and the cranes as well as inspections at both wind farms.
Maintenance work will begin in April 2022 from the base port in Esbjerg, Denmark. Service teams will be transported to the wind farms, which are located approximately 70 km and 90 km west of Sylt, using a Service Operation Vessel (SOV). In order to further minimise the logistics and time needed to carry out the work, the service technicians also use the offshore accommodation platform (OAP) located at the DanTysk wind farm. The agreement has a term of two years and offers the contracting parties the option to extend it.