Published: 10 March 2023

10 March 2023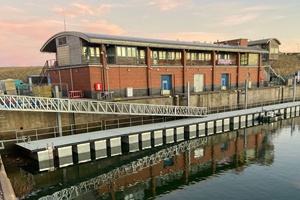 Inland and Coastal Marina Systems (ICMS) has installed a heavy-duty pontoon system in Eyemouth Harbour as part of the new operations and maintenance (O&M) base for the Neart na Gaoith Offshore Windfarm.
The bespoke pontoon system comprises a 58m x 4m pontoon and a 27m x 4m pontoon, both with one metre freeboard to match that of the vessels, creating a berthing facility for crew transfer vessels (CTVs) serving the new wind farm which is situated 15.5 kilometres of the coast of Fife. With a capacity for displacement vessels up to 140 tonnes, both pontoons are connected to the shore via 28m x 1.5m access bridges.